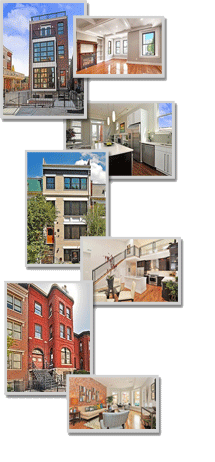 Lock 7 Development is a DC-based real estate development firm specializing in high-end condominium projects. Their projects feature emphasis on maximizing the urban experience with excellent design and unique character. Each new building includes the use of quality construction and high-quality amenities and fixtures. Most of their projects also have a historic component, which they weave seamlessly with modern appliances and technology for a rich combination of old and new.
Past projects have been featured on the HGTV shows "Get it Sold" and "My First Place".
Principals David Gorman and Patrick Conway bring over a decade of construction experience to Lock 7. Patrick has an MBA in Finance from Georgetown University. He spent twelve years as a stock trader in New York and later Washington, DC, and maintained entrepreneurial endeavors in the DC and Baltimore areas. In 2007, he left trading altogether to focus his career in real estate development. Patrick's financial background, knowledge of DC real estate and architectural inspiration enable Lock 7 to successfuly identify, project and account for each development project. Patrick is a licensed agent in Washington, DC and Maryland.
David has a BBA in Marketing and Management from Emory University. A native to the DC area, David oversees the design and construction of Lock 7 Development projects. His knowledge about the local real estate market and his expertise in design and construction management ensures that Lock 7 produces quality workmanship and projects run smoothly and on schedule. David is a licensed, bonded and insured general contracor in Washington, DC, and a licensed real estate agent in Washington, DC and Maryland.
For more information about Lock 7, visit their website or their blog.