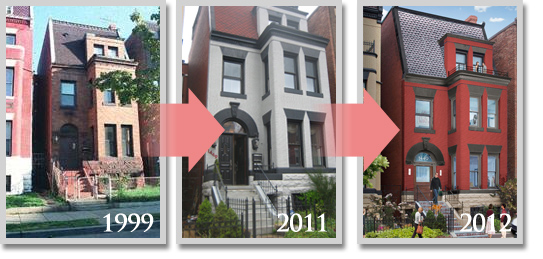 Constructed at turn of the 20th century, 1449 Harvard Street NW was built as a large home in the area near what was once destined to be the site of the new Columbia College, which later became George Washington University in the Foggy Bottom area of Washington. The streets in this neighborhood, now known as the vibrant, diverse and architecturally significant Columbia Heights, reflect this original plan in their names: Harvard Street, Columbia Road, University Place and more.
1449 Harvard Street NW, once a single family home with nearly 5,500 square feet and a detached carriage house/garage, now comprises eight luxury condominium dwellings with one and two bedrooms each. The home has been expanded significantly to the rear to accomodate these new units, while still maintaining a common outdoor space and parking for two cars. Developed by Lock7 Development, a renowned local builder with a passion for quality construction and historically sensitive renovations, 1449 Harvard has become Harvard Row.
View the tour to preview each of these fantastic units, and explore the neighborhood in the "Location" section to see all the shopping, dining and other conveniences that flourish just around the corner. Of particular note the new DCUSA shopping center just two blocks away, which includes Target, Washington Sports Club, and a Giant grocery store.
Learn more about Lock7 and the sales team and you'll realize that Harvard Row is an easy choice for convenience, elegance and cosmopolitan living in Washington.
Finally, be sure to sign in to ensure you are contacted for private events, incentives and other news regarding the sale of these units.